Mammogram Bus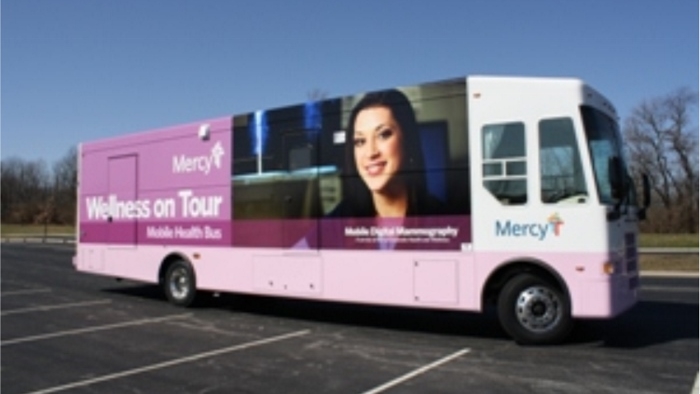 The Mercy Wellness On Tour Bus brings you the area's only state-of-the-art mammography equipment on wheels. Since 2001, the high-tech health bus, staffed with dedicated Mercy health professionals, has delivered on-site services throughout southwest Missouri.
The Mercy Wellness On Tour Bus will be located in front of Freudenberger House. Call 417-820-2790 to schedule an appointment. For more information, contact Jerilyn Reed at 417-836-4045.
About mammograms
A mammogram is a low dose X-ray of breast tissue and a screening can detect a lump as early as seven years before it can be felt. The Wellness On Tour Bus is an extension of Mercy Breast Center. Your images will be read by Mercy's dedicated mammography radiologists. Images are also read by the Image Checker System. This system is the first FDA-approved computer aided detection system. Early detection is key to higher survival rates and lower treatment costs.
Concerning facts
One in nine women will develop breast cancer in her lifetime
Breast cancer accounts for nearly one in three cancers diagnosed in women
Breast cancer is the second leading cause of death in U.S. women
Early detection and treatment is key to higher breast cancer survival rates
Mammography is an excellent screening tool
Insurance and cost
MSU insurance (Med-Pay) covers this preventative benefit at 100%.
Patient criteria
Must be 40+ years old
Must have been at least one year since last mammogram
Must not have current breast problems
Mammography CAN be provided for those with breast implants (please notify the scheduler)
Must be able to enter bus via steep steps and stand for exam unassisted
Appointments take approximately 15 minutes (30 minutes if breast implants)
The mammography equipment on the bus is the same at Mercy Breast Center. The technologist who performs the exam is female and also works at the Breast Center. Images are read by the same radiologists. Insurance is filed for you, which is billed the same as Mercy Breast Center.
2024 Mammogram Bus dates
January 31
March 7
April 1